"The Pettifogger." by Lewis Klahr, April 11, 2012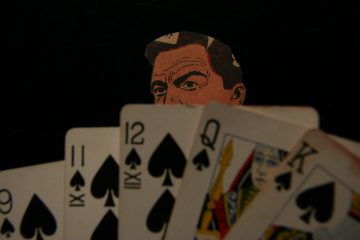 The Pettifogger
dir. Lewis Klahr, USA, 2011, video, 65 min.
American collage-artist Lewis Klahr has been making films for over thirty years, re-animating found objects into rich reveries of pop culture dream-narratives. His filmmaking is one of paper ephemera, comic-book cutouts and marked playing cards. The textures of his found material become even more alive with Klahr's recent turn towards HD photography: the coloured half-tone dots of mid-century printing processes and the surface quality of aging paper become vividly foregrounded, a mixture of Lichtenstein and Frankenstein.
Klahr's longest piece to date is an elliptical narrative of a year in the life of an American gambler and con man (the "petty fugger" of the title), circa 1963. A narcotic mixture of noir-driven intrigue and brooding, contemplative passages driven by strong mood music and found dialogue from radio potboilers, The Pettifogger is "an abstract crime film and, like many other crime films involving larceny, a sensorial exploration of the virulence of unfettered capitalism. An impressionistic collage film, culled from a wide variety of image and sound sources that fully exploits the hieroglyphic essence of cutouts to ponder what appropriation and stealing have in common" (Klahr).
Lewis Klahr in Person.
Wednesday, April 11, 2012 at 7 p.m.