"The Old Place" by Jean-Luc Godard and Anne-Marie Miéville. December 14, 2014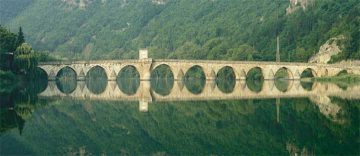 The Old Place
Introduction by Antoine de Baecque.
Commissioned by the Museum of Modern Art, New York, Jean-Luc Godard and Anne-Marie Miéville's The Old Place reflects on the fine arts as both witnesses to history and pathways to the sublime. Like much of Godard's work in the nineties, the shadow of the Bosnian war haunts this inquiry into the efficacy and the transcendence of art.
The Bridge on the Drina could be seen as a response to this inquiry. Xavier Lukomski's film consists of a single, widescreen shot of the eponymous structure, a silent sentinel which was once described by Nobel laureate Ivo Andrić as "so intertwined [with the region's history] that they could not be told as two separate stories." Lukomski returns to this statement by merging a view of the bridge with a voiceover from the testimony of Poljo Mevsud in front of the International Criminal Tribunal for the former Yugoslavia in 2001, wherein Mevsud describes how during the war he retrieved bodies from the river with the hope of identifying them and burying them honourably. Lukomski's sublimely minimal intervention illuminates both the horror and the humanity of Mevsud's recollection.
The Bridge on the Drina (Un pont sur la Drina) dir. Xavier Lukomski | Belgium 2005 | 18 min. 35mm
The Old Place dirs. Jean-Luc Godard & Anne-Marie Miéville | France/USA 2000 | 46 min. | video
Sunday, December 14 3:30pm
Still: The Bridge on the Drina