"Phil Hoffman: Lessons in Process". August 8, 2013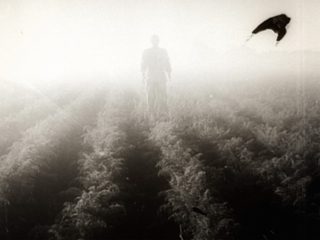 Phil Hoffman: Lessons in Process
Toronto filmmaker Phil Hoffman has long foregrounded the process of discovery inherent in filmmaking, reflexively imprinting it within the final films themselves. Whether it is the unpredictable chemical revelations of hand processing, the surprise unveilings of events and histories in family biographies, or happenstance occurrences during the filming itself, his films are ripe with lessons about how to harness the immediate experiences that goes into any creative work.
Hoffman's latest film, Lecciones en Proceso (Lessons in Process), finds him sharing these lessons through collaboration with a group of students from Cuba's famed Escuela Internacional de Cine y Televisión de San Antonio de los Baños, where Hoffman was engaged to teach filmmaking workshops in 2010, 2011 and 2012. Designed as a crossroads for students from developing countries, the school was founded in 1986 by a quartet of politically motivated Latin American writers and filmmakers. One of the original founders, the now eighty-six-year-old Argentinean poet and filmmaker Fernando Birri, still serves as a father figure to the school, and his visit during Hoffman's tenure reminds his students of their social inheritance—a heritage that comes to the fore as the students react to the Haitian earthquake that occurs soon thereafter.
Lessons in Process is preceded by passing through / torn formations, another meditation on travel and ancestry and one of the most significant films in Hoffman's oeuvre. Beautifully shot in crisp black and white and muted colour, this rich and multilayered work documents Hoffman's return to his Czech mother's homeland, a visit that frames another story about responsibility: that of a wayward uncle whom Hoffman attempts to reunite with an estranged daughter, in an effort to mend the fissures of time and neglect.
passing through / torn formations dir. Phil Hoffman | Canada 1988 | 43 min. | 16mm
Lecciones en Proceso (Lessons in Process) dir. Phil Hoffman | Canada/Cuba 2012 | 31 min. | video
Phil Hoffman in person.
Thursday, August 8 6:30 pm