"Hold Still – Keep Going: Films by Robert Frank". January 17-20, 2014
Hold Still – Keep Going: Films by Robert Frank
Four programme retrospective.
"Since being a filmmaker I have become more of a person. I am confident that I can synchronize my thoughts to the image, and that the image will talk back…. That eliminated the need to be alone and take pictures. I think of myself, standing in a world that is never standing still[:] I'm still in there fighting, alive because I believe in what I'm trying to do now." —Robert Frank
The publication of Robert Frank's photo-essay book The Americans in 1958 was a milestone in twentieth-century photography. The result of a year-long, Leica-accompanied sojourn across the US which Frank embarked upon shortly after emigrating from his native Switzerland, the book offered a raw, unvarnished portrait of an America that many Americans did not want to see. This record of Frank's road trip (featuring, appropriately, an introduction by Jack Kerouac) formed the seed for his inimitable style: a rough-and-tumble documentary view infused with a deeply personal subjectivity. The handheld aesthetic and fluid immediacy of Frank's photography (one got the sense that Frank aimed and shot in one breath) lent itself naturally to filmmaking, a practice that Frank embraced fully a year after the release of The Americans.
As with his photography, Frank's filmmaking had an immediate impact on the art form. Featuring a narration by Kerouac and appearances by Allen Ginsberg and Gregory Corso, Frank's first film Pull My Daisy (co-directed with painter Alfred Leslie) gave cinematic form to the literature and poetry of the Beat Generation and, along with John Cassavetes' Shadows of the same year, galvanized the nascent New American Cinema movement, which would soon see filmmakers like Shirley Clarke, Ron Rice, Jonas Mekas and others striving to create a truly independent cinema beyond the commercial province of Hollywood. Frank would return to the countercultural milieu of Pull My Daisy throughout his filmmaking career: Ginsberg and William S. Burroughs were frequent presences in his films, and he would also make documentaries on writer, activist and one-time Merry Prankster Stewart Brand (Liferaft Earth) and, most infamously, the post-Altamont Rolling Stones (the legendary Cocksucker Blues).
Frank's penchant for subjective documentary soon saw him taking a more inward turn, introducing more autobiographical elements as he sought to "mingle the private aspects of my life with my work, which is public by definition". The most moving and, eventually, heartbreaking films are those devoted to his two children: his daughter Andrea, who died in a 1974 plane crash at the age of twenty, and his son Pablo, whose psychological struggles took him in and out of institutions throughout his life. Marked by Frank's rough-hewn style and gruff, no-nonsense presence, Frank's films with his children, and the later videos he made at his rural retreat in Mabou, Nova Scotia, are both memento mori and vibrant celebrations of life: lacerated and worn like his late-period photographs but offering glimpses of astonishing beauty and power, a poetics of loss and memory as rendered by an outsider "trying to tell something true."
All films courtesy the Museum of Fine Arts Houston.
Cocksucker Blues
dir. Robert Frank | USA 1972 | 92 min. | 16mm on DigiBeta
Reportedly described by Mick Jagger as "a fucking good film … but if it shows in America we'll never be allowed in the country again," Frank's unflinching record of life on the road with the Rolling Stones is one of the most notorious documentaries ever made, and one of the most impossible to see: a legal settlement with the band—who feared that their entourage's onscreen antics could lead to public embarrassment and/or criminal prosecution—permits it to be screened only in very controlled circumstances (which makes tonight's screening a pricelessly rare event). Invited to document the Stones' US tour in support of their legendary album Exile on Main Street (for which Frank created the cover art), Frank foregoes the glamour on stage in favour of the everyday ennui and stasis in the wings, as the band and their assorted hangers-on (groupies, roadies, journalists) pursue various listless debaucheries to kill the boredom and homesickness of constant travel. Capturing moments lewd, despairing and oddly moving (the band's incognito pit stop at a Southern bar is especially poignant), with Frank's inimitably raw style and smoky black-and-white cinematography creating the sense of darkness creeping in, Cocksucker Blues retains its power to fascinate and disturb in equal measure.
Friday, January 17 6:30pm
Up, Up, Little Smoke: Pull My Daisy and other Shorts
Based on the third act of an unpublished play by Jack Kerouac, starring Allen Ginsberg and Gregory Corso and featuring a sublime narration by Kerouac himself, Robert Frank's Pull My Daisy (made in collaboration with painter Alfred Leslie) is not only an invaluable time capsule of the Beat Generation, but the first in a decades-spanning series of films in which Frank explored the changing face of hope—from the new frontiers of the Beat fifties through the growing disillusionment of the post-hippie era and the truly "beat" generation of the counterculture's heirs in the looming shadow of the Reaganite eighties.
In this programme, the brash countercultural manifesto of Daisy—in which an encounter between a priest and Kerouac's gang of poets becomes a dialogue between the secular and the spiritual—is followed by two of Frank's most intensely personal works. In Conversations in Vermont, Frank visits his son Pablo (briefly seen as a young boy in Daisy) and his daughter Andrea at a Vermont boarding school, which elicits not only a candid self-interrogation about Frank's performance as a parent, but about how the optimistic dreams of the sixties generation contrasts with those of their countercultural forebears. By the beginning of the eighties, that impasse between the generations has been exacerbated by tragedy: Andrea has been killed in a plane crash in Guatemala, while the troubled Pablo is struggling to carry on with the support of his girlfriend Sandy. Pablo and Sandy are the centrepiece of Life Dances On (which Frank described as his therapeutic attempt to "stop the decay" by continuing to work), their attempts to shuffle through in the face of adversity serving as the raw inspiration for Frank's own attempts to make sense of a collapsing world.
Pull My Daisy dirs. Robert Frank & Alfred Leslie | USA 1959 | 28 min. | 35mm
Conversations in Vermont dir. Robert Frank | USA 1969 | 26 min. | 16mm
Life Dances On dir. Robert Frank | USA 1980 | 30 min. | 16mm
Approx. total running time: 74 min.
Saturday, January 18 4:00pm
Home Improvements: Videos from Mabou
Mabou, Nova Scotia, where Robert Frank moved with painter June Leaf in 1971, became both a respite and an inspiration for the artist: removing himself from the hustle of New York City afforded a greater space in Frank's consciousness for memory, which soon became a primary theme in his work. In his photographic work during this period, Frank assembled blunt juxtapositions of old images and new ones taken of his current surroundings, and he often deliberately scarred the image by writing words directly on the negative and ripping into the photograph's emulsion. Mirroring these techniques, the three videos in this programme (the latter two masterfully edited by Laura Israel) track the accumulation of memory as Frank and Leaf work in their studio, peer out at the bleak but living landscape, and mourn the death of Frank's daughter Andrea and the deteriorating health of his son Pablo. Extremely intimate yet expansive in their generosity, these videos are beautiful statements on aging and the ways in which personal experience inhabits and amplifies the artistic process.
Home Improvements dir. Robert Frank | USA/Canada 1985 | 29 min. | video
The Present dir. Robert Frank | USA/Canada 1996 | 24 min. | video
True Story dir. Robert Frank | USA/Canada 2004/2008 | 26 min. | 16mm
Approx. total running time: 79 min.
Sunday, January 19 4:00pm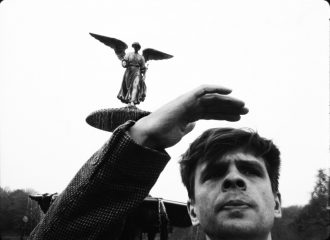 Me and My Brother
dir. Robert Frank | USA 1965-68, re-edited 1997 | 91 min. | 35mm
Bold, challenging and poetic, Frank's first feature film is both another invaluable chronicle of the Beat Generation and a stunning study of the relationship between documentary and artistic truth. Originally planning an adaptation of Allen Ginsberg's Kaddish, funding shortfalls steered Frank towards another subject: Julius Orlovsky, the brother of Ginsberg's lover Peter Orlovsky, who had recently been released into Peter's care after a stay in a mental hospital and who becomes the catatonic pivot-point of Peter and Allen's life. Frank follows the poets as they take the silent Julius with them on a reading tour, bringing him onstage as both a provocation and a desperate attempt at therapy. When both the tour and the film are disrupted after Julius wanders away in California, Frank hires actor Joseph Chaiken to take on Julius' role, fracturing the film ever further into pieces (including a film within a film starring Christopher Walken as Frank) as he both attempts to portray the functioning of a shattered psyche and interrogates the process of capturing truth within the documentary form. When the real Julius returns, his own interpolated reflections on the film serve as a summation of this daringly hybridic experiment, as well as a moving articulation of Frank's ongoing investigations into the nature of cinematic truth.
Tuesday, January 21 6:30pm