"Double Play: James Benning and Richard Linklater." August 23, 2014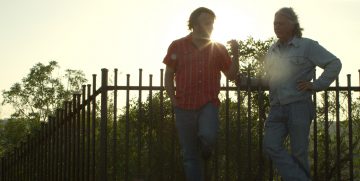 Double Play: James Benning and Richard Linklater
dir. Gabe Klinger | USA/France 2013 | 70 min. 35mm
Made for André S. Labarthe's long-running series Cinéastes de notre temps, Gabe Klinger's Double Play explores the unlikely friendship between two very different filmmakers, James Benning and Richard Linklater, a camaraderie that was born thirty years ago when Benning was the first guest at Linklater's newly established Austin Film Society. Klinger brings the pair together in Austin for a weekend to reminisce about their relationship, discuss their divergent careers, and indulge in their mutual first love, baseball. Charmingly laid-back and deceptively unassuming, Double Play captures two artists in a relaxed moment, their casual yet wide-ranging conversation offering insights into their respective working processes and deepening one's appreciation for their films.
Gabe Klinger and James Benning in person.
Saturday, August 23 6:30pm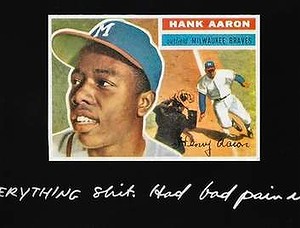 American Dreams (lost and found)
dir. James Benning | USA 1984 | 53 min. | 16mm on 35mm
Recently preserved to 35mm by the Austrian Filmmuseum, American Dreams (lost and found) is one of the key works of James Benning's extensive filmography, and the first of his films to look at the troubled political landscape of the United States through the eyes of a violent outcast. Here, Benning juxtaposes the diaries of Arthur Bremer—the would-be assassin of Richard Nixon who settled for shooting and partially paralyzing controversial presidential candidate George Wallace—with Benning's collection of Hank Aaron baseball cards, systematically photographing the front and back of each card while Bremer's text scrolls underneath, accompanied by a soundtrack of political speeches and pop songs from the year each card was issued. Connecting these men to each other through a single geographic detail— Aaron started and ended his Major League baseball career in Milwaukee, where Bremer (and Benning) was born—Benning intertwines two tales of pursuit (Aaron's bid to break Babe Ruth's home-run record and Bremer's stalking of Nixon) into a riveting portrait of a postwar America in the midst of radical change.
preceded by
Chicago Loop
dir. James Benning | USA 1976 | 9 min. | 16mm on 35mm
A portrait of three Chicago locations (including Wrigley Field), recently preserved to 35mm by the Academy Film Archive.
James Benning in person.
Saturday, August 23 9:00pm