"All Down the Line: Films by Kevin Jerome Everson". October 3-4, 2013
All Down the Line: Films by Kevin Jerome Everson
Kevin Jerome Everson in person.
Over the past fifteen years, Kevin Jerome Everson has created a singular body of work devoted to a personal and distinctive look at African American life. Drawing on his training as a visual artist, notably in sculpture and photography, Everson's films build a formal relationship to his subjects that move beyond documentary into portraits of people's physical relationship to their work, their geographic community, and the material weight of history. His films are performative gestures— they inhabit experience as much as they reveal the stories behind that experience.
As Everson's body of work has steadily accumulated—he currently has seven features and nearly a hundred shorts to his credit—a geographic subtext has appeared that maps the Great Migration of the early and mid-twentieth century, when African Americans moved out of the rural South to the cities of the North. The locations of many of Everson's films (notably Columbus, Mississippi, and Mansfield and Cleveland, Ohio), tied as they often are to communities he has personal relationships with, serve as both a skeletal trace of that historical movement and a testament to the interconnections of African American communities across the United States. This two-part spotlight inquires into this restlessness so evident in Everson's work—especially so in the case of his new feature film, The Island of St. Matthews, which takes us to the Mississippi community that his parents left behind when they migrated to Ohio in the 1950s.
Company Line forms the centrepiece to this inquiry. This documentary featurette looks at the neighbourhood in Mansfield, Ohio, where Everson was born and raised, an area settled by African Americans from the South after World War II but recently gentrified by city planning. Everson travels the neighbourhood roads with city snowplow drivers, mapping the area through work and testimony. Emergency Needs revisits a tense night in Cleveland history, the Glenville Shootout of July 1968, which took place at a time when the urban North was saturated with racial tension and civil unrest. Rita Larson's Boy chronicles a westwards migration: Columbus native Nathaniel Taylor's journey to Los Angeles in search of fame, which he found in the role of Rollo Larson on Sanford and Son. In between, we look at examples of Everson's single-roll films, his unique one-take gems that reveal a highly materialist attention to movements that are both physical and metaphoric.
The Pritchard dir. Kevin Jerome Everson | USA 2010 | 11min. | 16mm | silent
Company Line dir. Kevin Jerome Everson | USA 2009 | 30 min. | 16mm/mini-DV/photographs on video
Emergency Needs dir. Kevin Jerome Everson | USA 2007 | 7 min. | 16mm on video
Undefeated dir. Kevin Jerome Everson | USA 2008 | 3 min. | 16mm on video
Rita Larson's Boy dir. Kevin Jerome Everson | USA 2012 | 11 min. | 16mm on video
Century dir. Kevin Jerome Everson | USA 2012 | 7 min. | 16mm
Approx. total running time: 69 min.
Thursday, October 3 8:30 pm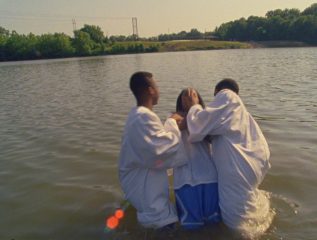 The Island of St. Matthews
In 1973, a catastrophic flood deluged the city of Columbus, Mississippi, gutting many of the homes that were built in the floodplains of the Tombigbee River. A subsequent dam project by the US Army Corps of Engineers enabled the regulation of future floodwaters, but also separated the community of Westport from the rest of Columbus.
For Kevin Jerome Everson, the flood first manifested itself in a lack of family heirlooms, washed away as they were by the floodwaters. Reflecting on this, in The Island of St. Matthews Everson returns to Westport to create a portrait of the community, the remarkable insights he gleans via his personal access to the local residents amplified by the rich beauty of his 16mm cinematography. The film unfolds as a mixture of poetic sequences centred upon the local church; moving testimonials recalling the flood; a tour of the dam locks; and an idiosyncratic sequence following a water-skier as he circles the "island" along the Tombigbee. Through this beautiful and subtly revealing film, Everson once again captures the pull of personal roots by focusing on the resilience of a displaced community ever more committed to calling their land home.
The Island of St. Matthews is preceded by Juneteenth Columbus Mississipi, a single- frame journey through the Columbus fairgrounds during the annual celebration of the abolition of slavery.
Juneteenth Columbus Mississippi dir. Kevin Jerome Everson | USA 2013 | 2 min. | 16mm on video | silent
The Island of St. Matthews dir. Kevin Jerome Everson | USA 2013 | 64 min. | 16mm on video
Films courtesy of the artist; Trilobite-Arts-DAC and Picture Palace Pictures.
Friday, October 4 6:30pm