"Quiet Lightning: The Films of Kidlat Tahimik." November 16-21, 2017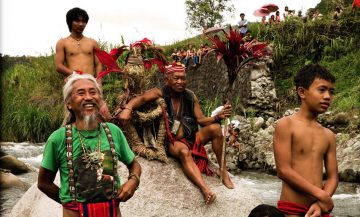 Quiet Lightning: The Films of Kidlat Tahimik.
Five program retrospective. Kidlat Tahimik in person.
A truly globalized filmmaker paradoxically rooted deeply in his homeland, Kidlat Tahimik undermines colonial narratives by telling epic, localized truths. Offering a humorous, ironic lens on the long history of the West's efforts to control the East, Tahimik has over the four decades of his filmmaking created a remarkable cinema of wanderlust and adventure; it's no surprise that one of the central figures in his oeuvre is Magellan's Filipino slave Enrique of Malacca, who rightfully deserved the title of first circumnavigator of the globe that was instead bestowed upon his European master.
Born Eric de Guia in Baguio City in the northern Philippines, Tahimik earned an MBA from Pennsylvania's Wharton Business School in and then went to Paris to work as an economist at the Organization of Economic Cooperation and Development. An ill-fated stint selling Filipino souvenirs at the 1972 Munich Olympics compelled a bankrupt Tahimik to seek refuge in a hippie artist commune. This led to a chance encounter with Werner Herzog, who cast Tahimik in a small role in The Enigma of Kaspar Hauser. This experience inspired Tahimik to move behind the camera, and in 1977 he debuted his first feature The Perfumed Nightmare at the Berlin Film Festival, to great acclaim.
The humourous tale of a jeepney driver (played by the director himself) who sets out from the Philippines in search of his idol, rocket engineer Wernher von Braun, The Perfumed Nightmare established the blueprint for the unique mélange so characteristic of Tahimik's cinema. Unorthodox, rickety, yet cosmically minded (rockets and lunar explorers recur often), Tahimik's films embed sly critiques within deftly told narratives — a technique of layered observations that Tahimik calls "straying on track" — accumulating telling details that articulate the clash of tradition, modernity, and neocolonialism in the developing world.
After spending close to a decade in Germany, where he made a trio of successful features, Tahimik returned to the Philippines and embarked on a pair of even more ambitious projects: the deeply moving, ten-years-in-the-making Why is Yellow the Middle of the Rainbow?, which parallels the growth of his eldest son with the rise of the democratic movement in the Philippines; and the aforementioned Magellan film Memories of Overdevelopment, which faced numerous production hiccups (including a letter from Francis Ford Coppola offering funding support, which never got delivered) on the way to its ultimate completion.
Concurrently, Tahimik embraced the indigenous culture of Baguio City, learning from the local Igorot tribes and adopting the bahag loincloth as a reminder of the historical traditions of his birthplace. This transformation also found him embracing his mischievous inner duende as a self-described "indiegenius," subverting cinematic language through a grassroots commitment to the personal and the political, the local and the historical, in the face of those omnipresent cultural forces that seek to efface them all.
Thanks to Merv Espina; Kathy Geritz, Pacific Film Archive; Maria Abegail Lara; Kathleen Rimorin; Kidlat de Guia.
Balikbayan #1 Memories of Overdevelopment Redux VI
dir. Kidlat Tahimik | Philippines 1979/2017 | 150 min. digital
A slang term for a Filipino expatriate working abroad, balikbayan is literally translated as "return to one's island" (or "home"), and Tahimik's film of that name is very much a return for the director — back to his home in the Philippines, and to the once-aborted project he had longed dreamed of making, his epic about Magellan's Filipino slave Enrique of Malacca. Purchased by the Portuguese explorer to act as an interpreter on his voyages, Enrique is thought by many to be the first to have circumnavigated the globe by the time Magellan met his death in the Philippines, after completing only three-quarters of history's official first circumnavigation. Combining 30 minutes of 16mm footage from Tahimik's first attempt to make the film (starring the director as Enrique) with a contemporary narrative (shot on digital) featuring Tahimik's son Kawayan de Guia as a modern reincarnation of Magellan, Balikbayan #1 is a fascinating object that weaves together 30 years of false starts and loose ends to finally tell the story of the slave who beat his master around the world.
Thursday, November 16, 6:30pm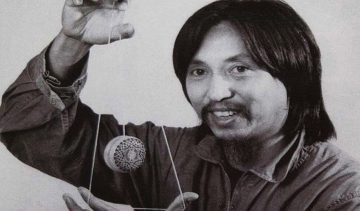 The Perfumed Nightmare (Mababangong bangungot)
dir. Kidlat Tahimik | West Germany/Philippines 1977 | 93 min. 16mm
Tahimik's first feature caused a sensation at its debut at the Berlinale in 1977. In this strikingly engaging hybrid film, Tahimik stars as a jeepney driver who is also president of a Wernher von Braun Fan Club. Setting off in search of the legendary/notorious rocket scientist with dreams of becoming the first 3rd world astronaut, the aspiring cosmic explorer finds himself in Munich and Paris, embroiled in a series of adventures he could never have imagined and observing culture clashes and the seductive dreams of technological modernization along the way. Already displaying its maker's sharp wit and penchant for drawing deeper meanings out of cultural habits, The Perfumed Nightmare is an ironic and insightful voyage into cross-cultural assumptions and misunderstandings.
Friday, November 17, 8:45pm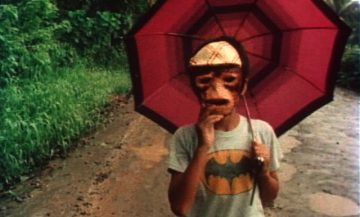 Turumba
dir. Kidlat Tahimik | West Germany/Philippines 1981 | 95 min. 16mm
A fictionalized version of Tahimik's own attempt to cash in on the Munich Olympics (a venture that was disrupted by the infamous Black September massacre), Turumba focuses on a village that is hired by a German entrepreneur to modify their local papier-maché festival figurines into Waldi dachshund mascots for the 1972 Olympics. Commissioned as part of the German broadcaster ZDF's series of short films inspired by phrases from the Lord's Prayer — Tahimik was assigned "Give us this day our daily bread" — the full-length Turumba is the director's most straightforward film, similar in tone to the work of Les Blank (a fellow Herzog friend and another of Tahimik's passionate champions). Despite this more conventional surface, Tahimik transforms the film into yet another of his sly studies of capitalism's alienation and exploitation of traditional culture, intertwined with an incisive self-reflection and -critique of his own role in this process.
Saturday, November 18, 1:00pm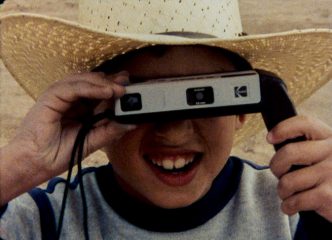 Why is Yellow the Middle of the Rainbow? (Bakit Dilaw Ang Kulay ng Bahaghari)
dirs. Kidlat Tahimik & Kidlat Gottlieb Kalayaan | Philippines 1984–1994 | 175 min. 16mm on digital
A unique collaboration between Tahimik and his eldest son Kidlat Gottlieb Kalayaan, Why is Yellow the Middle of the Rainbow? is a long-form collage film playfully exploring a decade of American neocolonialism in the Philippines and the US. Inspired by a trip to Monument Valley and the Navajo Nation while en route to the Telluride Film Festival, the two Kidlats use the "spaghetti machine" (Tahimik's nickname for his Bolex 16mm film camera) to make their own "spaghetti western." The decade-long path of the film encompasses the assassination of Benigno Aquino and the subsequent Yellow People-Power Revolution against Ferdinand Marcos that brought Corazon Aquino to power, the decommissioning of the US air base Camp John Hay, and the younger Kidlat's trajectory through school, all shown through a Third World Projector salvaged from a junkpile on Navajo land. Filtering a wide range of political and cultural concerns through an intensely personal and familial lens, Why is Yellow… is the central film in Tahimik's cinematic cosmology.
Sunday, November 19 1:00pm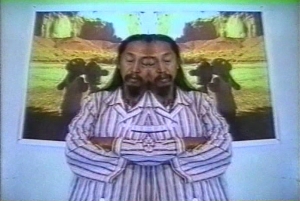 Video-Palaro: The Video Diaries of Kidlat Tahimik
dir. Kidlat Tahimik | Philippines/Japan 1992–2006 | 90 min. digital
Produced over 15 years for the JVC-sponsored Tokyo Video Festival, Tahimik's Video Diaries offers a lovely set of accents to his longer 16mm films. Tropes and themes that recur throughout the director's career are set in gemlike relief in these brief yet eloquent videos, which include a loving reminiscence of fatherhood on the occasion of Tahimik's 50th birthday; a tree-planting ritual to celebrate the impending 500th anniversary of Magellan's voyage; a short documentary on the dying practice of rice terraces, filtered through a homage to Kurosawa; a tribute to the importance of roofs and the strength of bamboo as a building material; and a healing ritual for an oil spill off the island of Guimaras.
Orbit 50: Letters to my 3 Sons
dir. Kidlat Tahimik | Philippines/Japan | 1992 | 18 min. | video shown digitally
Celebrating the Year 2021, Today
dir. Kidlat Tahimik | Philippines | 1995 | 20.5 min. | video shown digitally

Some More Rice
dir. Kidlat Tahimik | Philippines | 2000 | 18.5 min. | video shown digitally
Bubong! Roofs of the world, UNITE!
dir. Kidlat Tahimik | Philippines/Japan | 2006 | 20 min. | video shown digitally

Our Film-Grimage to Guimaras
dir. Kidlat Tahimik | Philippines/Japan | 2006 | 9.5 min. | video shown digitally
Tuesday, November 21 9:00pm