"What the Complete Image Could Be: Works by Faraz Anoushahpour, Parastoo Anoushahpour, and Ryan Ferko." December 4, 2018
Over the last five years, the Toronto-based trio of Faraz Anoushahpour, Parastoo Anoushahpour and Ryan Ferko has brought their diasporic experiences to bear on a series of unique and fascinating projects for both the gallery and the cinema. Foregrounding place as a central aspect of their practice, the artists present location — whether it be Berlin, Taipei, Belgrade, Windsor, a village in Iran, or Cathedraltown in Markham — as cipher, and their work seeks to both decode these surroundings and trouble the image through speculative narration and dialectical imagery, which often oscillates between archival material and evocative location shooting.
Tonight's programme features three of the prolific artists' recent videos, along with the premiere of some of their brand new work. In the densely edited Bunte Kuh, footage of tourists and Japanese carp is overlaid with a slightly sinister reminiscence. Shifting the scene to Taiwan, Heart of a Mountain addresses the difficulty of translating words and ideas across cultures. In Chooka, the trio returns to a village in the Iranian province of Gilan to try and find out more about a Canadian-built paper factory that they had discovered in the archival footage of filmmaker Jacques Madvo, resulting in a lovely rumination on research, hospitality, history, and the making of fictions.
Chooka Canada 2018 | 21 min. Digital
Heart of a Mountain  Canada 2017 | 16 min. Digital
Bunte Kuh  Canada 2015 | 6 min. Digital
If All That Changes Quickly | Canada 2018 | 18 min. Digital
Faraz Anoushahpour, Parastoo Anoushahpour & Ryan Ferko in person.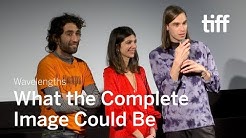 Q&A Session available to watch here.