"Existence is Song: A Stan Brakhage Retrospective." January to December 2018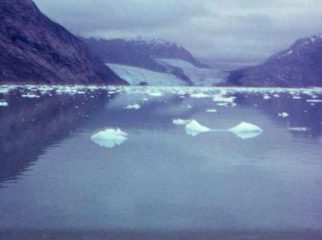 "After a night of screening […] I would re-recognize a world of presence, lit by internal rhythm, ordinary day/rock/glance made splendid as Brakhage had caressed it on screen. The world, from parking garage to houseplant, children's toy to fence, leaf to light, to infamous ashtray became through his attention, aglow, lighting space and mind. At best, Brakhage's work is rigorous and complex as well as beautiful, taking you closer to the world, not away from or out of it, but magnificent, evanescent."—Abigail Child
Fifteen years since his passing, Stan Brakhage (1933-2003) remains one of the most influential experimental filmmakers in history. Incredibly prolific, he made over 400 films in his lifetime, predominantly in 16mm, progressing from his early psychodramas through a period of diaristic and mythopoetic filmmaking and concluding with a series of beautiful abstract films made by painting directly onto celluloid. All of Brakhage's films questioned the nature of vision, seeking an Edenic, pre-verbal form of perception that the filmmaker famously described thus: "Imagine an eye unruled by man-made laws of perspective, an eye unprejudiced by compositional logic, an eye which does not respond to the name of everything but which must know each object encountered in life through an adventure of perception. How many colors are there in a field of grass to the crawling baby unaware of 'Green'? How many rainbows can light create for the untutored eye?"
Born in Kansas City, Missouri and given up for adoption when he was three weeks old, Brakhage grew up in the company of creative friends — notably animator Larry Jordan, musician Morton Subotnick and most importantly composer James Tenney — who would collaborate on Brakhage's first film, made when he was still a teenager. This would be the first of many vital creative networks in Brakhage's life: he subsequently moved to San Francisco, where he became ensconced in the thriving poetry scene, and then to New York, where he sought out such luminaries as avant-garde filmmakers Maya Deren, Marie Menken and Joseph Cornell, and composer John Cage.
In 1957, Brakhage married Jane Collom (now Wodening) and moved to an isolated log cabin in the mountains of Colorado in 1964, where the stunning wilderness and intense proximity of his family (which came to include five children) inspired dozens of films that explored child-rearing (and, in his famous Window Water Baby Moving, child-birthing), cognitive and visual development, psychedelic explorations of inner space, and the mythos of the natural world. Concurrent to Brakhage's more diaristic work were intense studies of embodied vision (including The Act of Seeing with One's Own Eyes), the abstraction of light (Text of Light), and the cosmos itself (Dog Star Man). Ironically afflicted with poor vision, Brakhage made of this condition an inspiration: he built an entire aesthetic theory around "hypnogogic" or closed-eyed vision, the smudges of colour we see when we close and press our eyelids together. He first explored this photographically, with shifting focus, visual distortion and rapid editing, but he more fully developed these ideas when he focused more on the possibilities of painting directly upon film in the last two decades of his life, creating a unique body of work akin to action painting.
As Brakhage's filmmaking was so intimately tied to his personal life, his influence on other artists was as personal as it was professional, with all the problematic consequences that entails. To cite just one example, the acclaimed visual artist Carolee Schneemann — who met the filmmaker through his friend and her longtime partner Tenney — was inspired by Brakhage to make her classic 1967 film Fuses, but also frustrated by what she perceived as a masculine ego that hindered his initial recognition of her talents. However, as Brakhage's early competitiveness ebbed over the many decades of his career, he would champion many films by artists, especially women. (A programme devoted to women filmmakers who inspired or were inspired by Brakhage will be presented in the course of this retrospective.)
Despite Brakhage's enduring influence, his work has been relatively unseen in Toronto over the last decade, so this year-long retrospective offers a priceless opportunity to see a wide range of his films in their original 16mm format. Whether encountering the visual diaries, the abstract light films or the vibrant painted films, one cannot walk away from a Brakhage screening without an awed appreciation for the way he attempted to re-see the world, and to visualize the words of Rilke: "existence is song."
—Chris Kennedy
Thanks to Thomas Beard; Marilyn Brakhage; Jesse Brossoit & Genne Speers, CFMDC; Fred Camper; Aimée Mitchell; Émilie Vergé.
A Brakhage Primer: Selected Shorts, January 28
This programme aims to highlight key works in Brakhage's immense oeuvre and sketch the trajectory of his career. Opening with the artist's shortest film, the nine-second Eye Myth, the programme proceeds with In Between, an early psychodrama shot in San Francisco in collaboration with painter Jess Collins and John Cage; Mothlight, which was created by applying grass and flowers directly to the filmstrip; the revolutionary Window Water Baby Moving, which documents the birth of Brakhage's first daughter; Creation and The Cat of the Worm's Green Realm, two stunning nature films (one mythological, one microscopic); I … Dreaming, a harrowing later-period diary film made soon after Brakhage's divorce from Jane Collom; and two of the artist's most exemplary hand-painted films, the corporeal and sensuous Coupling and The Dante Quartet, which was painted on 35mm and IMAX film and will be shown on 35mm.
Eye Myth dir. Stan Brakhage | USA 1967 | 9 seconds | 16mm
In Between dir. Stan Brakhage | USA 1955 | 9.5 min. | 16mm
Mothlight dir. Stan Brakhage | USA 1963 | 3.5 min. | 16mm
Coupling dir. Stan Brakhage | USA 1999 | 4.5 min. | 16mm
Window Water Baby Moving dir. Stan Brakhage | USA 1959 | 12.5 min. | 16mm
Creation dir. Stan Brakhage | USA 1979 | 16 min. | 16mm
The Cat of the Worm's Green Realm dir. Stan Brakhage | USA 1997 | 14 min. | 16mm
I … Dreaming dir. Stan Brakhage | USA 1988 | 6.5 min. | 16mm
The Dante Quartet dir. Stan Brakhage | USA 1987 | 6 min. | 35mm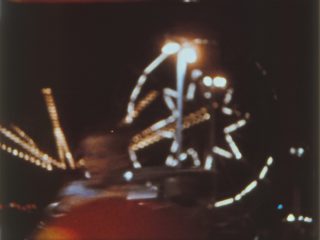 Anticipation of the Night, Tuesday, February 27
dir. Stan Brakhage | USA 1958 | 40 min. | 16mm
Inspired in part by the Surrealists and the films of Maya Deren, Brakhage's early psychodramas — which typically follow a young protagonist as he attempted to make sense of a dark and mysterious world — were both visually innovative and gloriously, unabashedly self-involved. This cycle culminated in Brakhage's most stunning early film, Anticipation of the Night, a work rich in visual metaphor and drenched in shadows from just beyond the wall of sleep.
Preceded by
The Wold Shadow dir. Stan Brakhage | USA 1972 | 2.5 min. | 16mm
The shadows of a forest are enhanced by paint applied to a glass plate placed in front of the camera.
Sirius Remembered dir. Stan Brakhage | USA 1959 | 10.5 min. | 16mm
A portrait of the decaying body of the family dog shot over a six-month period as it returned to nature, the cyclical rhythms of the film forming a tribute to Gertrude Stein.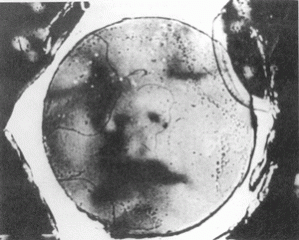 Dog Star Man, Sunday, March 18 6:00pm
dir. Stan Brakhage | USA 1965 | 74.5 min. | 16mm
Brakhage's deepest dive into a mythopoetic universe and a central film in his oeuvre, Dog Star Man rivals Kubrick's 2001 as the ultimate '60s head trip. Employing an array of superimpositions and visual effects, Brakhage takes a simple visual subject — a man climbing a mountain — and creates a psychedelic cosmology that places that man in communion with the stars. The imagery is so dense that Brakhage later extended the four layers of superimposition into a version of the film that lasted four-and-a-half hours (The Art of Vision), and one could even say that all the films he made in the four decades after Dog Star Man were expansions on the themes he so forcefully articulates here: the human relationship to time, nature and the cosmos, and the way in which our inner space refracts and reflects the outer world.
Preceded by
Stellar dir. Stan Brakhage | USA 1993 | 2.5 min. | 16mm
In this later-period work, Brakhage uses painting on film to mimic the forms of galactic clusters of stars.
Introduction by Thomas Beard, co-publisher of the new edition of Brakhage's book Metaphors of Vision.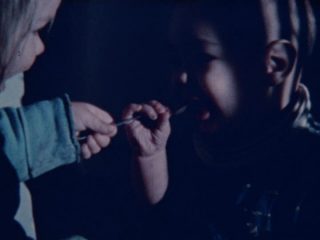 Scenes from Under Childhood, Saturday, April 7 1:00pm
dir. Stan Brakhage | USA 1967–1970 | 137 min. | 16mm
Brakhage's marriage to Jane Collom, the subsequent birth of their five children, and their move to rural Colorado inspired him to document the family's domestic life in his films in an extremely personal and provocative way. In the keenly observed and epically scaled Scenes from Under Childhood, Brakhage attempts to visualize the psychological interior of a child as they "learn the world" from birth through to maturity. Beginning with organic colour fields and muffled sounds that represent the womb, Scenes proceeds through visually distorted impressions of the physical world that eventually coalesce into "mature" vision, mapping out the visual socialization and acquisition of the descriptive order that Brakhage so eloquently challenged throughout his singular career.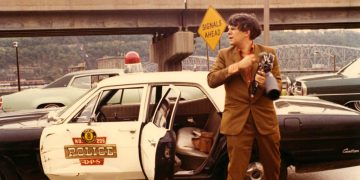 The Pittsburgh Trilogy, May 15
Thanks to the lobbying influence of the Carnegie Museum's Sally Dixon and newspaper photographer Mike Chirikis, in 1971 Stan Brakhage was able to make three films that look behind the scenes of a trio of normally opaque state institutions in the city of Pittsburgh: the Pittsburgh police, the West Pennsylvania Hospital, and the Allegheny Coroner's Office. More akin to Frederick Wiseman's documentaries of the same period (e.g., Law and Order [1969] and Hospital [1971]) than the frenetically expressive explorations of Brakhage's earlier films, the resulting "Pittsburgh Trilogy" — Eyes, Deus Ex, and The Act of Seeing With One's Own Eyes — nevertheless brought Brakhage's unique visual language into these rigid, controlled environments, opening them up to his poetic questioning of what (and how) we see. The Act of Seeing in particular has become a touchstone of the artist's oeuvre, as the frisson of the subjective experience of vision (both Brakhage's and the viewer's) confronted with the objective reality of cadavers in a morgue introduces the potential of freedom from taboo and fear.
eyes dir. Stan Brakhage \ USA 1971 \ 35 min. \ 16mm
Deus Ex dir. Stan Brakhage \ USA 1971 \ 32 min. \ 16mm
The Act of Seeing With One's Own Eyes (dir. Stan Brakhage \ USA 1971 \ 32 min. \ 16mm
Throughout the '70s and '80s Brakhage continued to explore a wide swath of formal and thematic concerns, which can be roughly characterized as three distinctive (though still intertwined) streams: visual abstraction, autobiography, and mythos. The excursions into abstraction were propelled by the discoveries Brakhage made while working on The Text of Light, his most significant film in this mode, which led to multiple series of light films (often shot on Super 8mm) and also informed his painted films, a selection of which we will screen in the next season. The autobiographical works were made concurrently, with Brakhage continuing to incorporate home movies into his ruminations on fatherhood and family — perhaps never more powerfully than in Tortured Dust, a bracing study of the artist's claustrophobic relationship with his late-adolescent children. Finally, Brakhage continued to explore the mythopoetic realm with such works as his four-part reflection on the Faust myth and the stunning Visions in Meditation series, made during a four different cross-country journeys with his second wife Marilyn Jull. —Chris Kennedy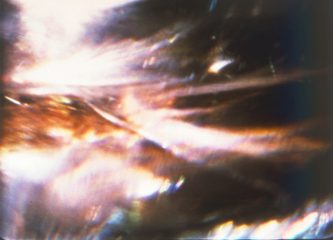 The Text of Light, Tuesday, June 12 9:00pm
dir. Stan Brakhage | USA 1972 | 67 min. 16mm
While Brakhage was setting up a shot for a portrait film he was making of an old high-school friend, the bellows of the camera lens drooped and focused on an ornate crystal ashtray on his friend's desk. Brakhage was stunned by the refracted world of shimmering and organic light this revealed, and spent the next few weeks filming the ashtray and other glass materials in all possible light conditions. Its unlikely genesis aside, The Text of Light is one of Brakhage's more popular films and a cornerstone of his oeuvre, creating a stunning cosmos of imagery as the beams of light form celestial patterns and lush fields of colour.
Preceded by
The Shores of Phos: A Fable dir. Stan Brakhage | USA 1972 | 10 min. 16mm
A nature film that captures the play of light across the fur and feathers of Brakhage's farm animals.
Introduced by Chris Gehman.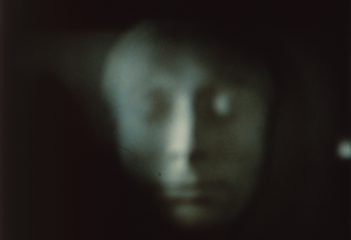 Tortured Dust, Tuesday, July 10 9:00pm
dir. Stan Brakhage | USA 1984 | 88 min. 16mm
The culmination of a series of autobiographical films that Brakhage made about his family (collectively known as The Book of Family), Tortured Dust was shot as the filmmaker's children from his first marriage were beginning to leave the house, and edited during Brakhage and his first wife Jane's impending separation; understandably, the film is permeated by a sense of imminent loss. The first half concentrates on Brakhage's teenage sons as they move around the cabin that has been their home for almost 20 years, Brakhage shooting them through windows and doorways to emphasize the claustrophobia of adolescence that they are now taking leave of; the second half turns towards the filmmaker's three daughters, particularly Neowyn and her new daughter, Brakhage's grandchild — a hope of the new, but also further recognition of life dancing on. While not commonly viewed as a centrepiece of Brakhage's oeuvre, Tortured Dust is a compellingly introspective film that sees the artist reflecting on his own future as he watches his children preparing to embrace their own.
Preceded by
Hymn to Her dir. Stan Brakhage | USA 1974 | 2 min. 16mm
A short portrait film of Jane Brakhage at home in the couple's cabin and greenhouse.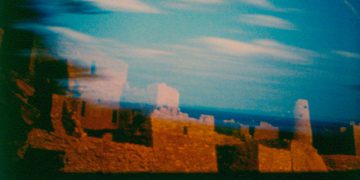 Visions in Meditation, Tuesday, August 14 9:00pm
After a difficult personal period for the filmmaker, Brakhage's marriage to his second wife Marilyn Jull and the couple's subsequent travels around the US and Canada inspired this stunning series of films about the American landscape, which "rekindled [Brakhage's] confidence in the eloquence of the embodied moving camera," as P. Adams Sitney writes. Inspired by Gertrud Stein's Stanzas in Meditations and the writings of D.H. Lawrence, Visions in Meditation takes us through New England, New Mexico, Colorado and Eastern Canada, exploring, among other things, the archaeological sites of Mesa Verde, Lawrence's ranch in Taos, and the reverberations of these historical sites across time.
Visions in Meditation 1 dir. Stan Brakhage | USA 1989 | 20 min. 16mm
Visions in Meditation 2: Mesa Verde dir. Stan Brakhage | USA 1989 | 18 min. 16mm
Visions in Meditation 3: Plato's Cave dir. Stan Brakhage | USA 1990 | 18 min. 16mm
Visions in Meditation 4: D.H. Lawrence dir. Stan Brakhage | USA 1990 | 19 min. 16mm
Mystical Affinities: Female Perspectives on Brakhage, Sunday, October 14 1:00pm
"Some quality of light in the work of one filmmaker will inspire and open a door permitting another to continue to push forward with their own work. This was the gift [Brakhage's] films gave to me." —Jennifer Reeves
"We confirmed each other within the energies of visualized embodiment and changing definitions of taboo[…] And as well, we unleashed hysterical joy, mystical affinities, emotional nightmares." —Carolee Schneemann
Like many men of his generation, Brakhage had a complicated relationship with the women working in his field. Although he was a vocal advocate for an older generation of women artists — Gertrude Stein, Maya Deren, and Marie Menken were central influences that he gladly credited — it was more difficult for him to recognize the value of his peers. "It was [a] psychic need to dominate a realm of creativity," Carolee Schneemann commented in a 2015 interview. "Only certain female figures were admitted."
Schneemann, who first met Brakhage when she partnered with the filmmaker's childhood friend James Tenney in 1955, was one of Brakhage's most creative sparring partners throughout the years. Despite their mutual influence on each other — Schneemann's stunning Fuses was made in response to Brakhage's Window Water Baby Moving, and in turn, no one can watch Fuses without recognizing the visual influence it had on Brakhage's own subsequent films — Brakhage was slow to recognize his peer. "[I]t was only in the mid-'80s that you began to 'see' my films," Schneemann wrote in a memorial letter. "By the 1980s, your women film students had asserted their regard for my works; you changed your estimation."
This transformation that Brakhage underwent in his later life also enabled him to become a significant influence, mentor, and even collaborator to a new generation of female filmmakers. Embracing the tactility of Brakhage's painted films and the embodied corporeality of his camera films, filmmakers like Mary Beth Reed (who optically printed some of Brakhage's hand-painted films), Jennifer Reeves, Kalpana Subramanian, and Izabella Pruska-Oldenhof found both generative touchstones and productive tensions that propelled their own work forward.
This programme of works by female filmmakers made in response to Brakhage will be introduced by two presentations. Kalpana Subramanian will talk about her recent films and research — which uses a transcultural and interdisciplinary lens to examine Brakhage's radical experimentations with light and its relationship with embodiment and breath — while Ara Osterweil, author of the recent study Flesh Cinema: The Corporeal Turn in American Avant-Garde Film, will further discuss the charged and sometimes fraught friendship between Brakhage and Schneemann. Subramanian, Osterweil, and Izabella Pruska-Oldenhof will also be present after the screening for a Q&A session.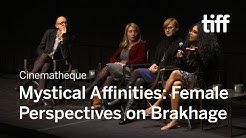 Watch the presentations online here.
Empyrean dir. Kalpana Subramanian | USA 2016 | 6.5 min. Video
Song of the Firefly dir. Izabella Pruska-Oldenhof | Canada 2002 | 4.5 min. 35mm
Fuses dir. Carolee Schneemann | USA 1965 | 30 min. 16mm
Jane Brakhage dir. Barbara Hammer | USA 1981 | 10 min. 16mm
Moon Streams dir. Mary Beth Reed | USA 2000 | 6.5 min. 16mm
Fear of Blushing dir. Jennifer Reeves | USA 2001 | 5 min. 16mm
Tattva dir. Kalpana Subramanian | USA 2018 | 5 min. Video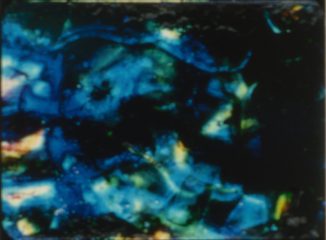 Brakhage: The Painted Films, Wednesday, November 7 8:35pm
From early in his career, Brakhage was interested not only in filming images, but in applying elements to the actual film itself — whether adhering objects onto the film surface (as in Mothlight), scratching and painting directly onto the emulsion, or applying paint to clear leader and re-photographing the results to create animated action paintings. For Brakhage, painting on film was a way to illustrate one of his central concepts: what he called "hypnagogic vision," the patterns of colour we "see" when our eyelids are closed and rubbed by our fingers, which to Brakhage represented the primordial, eternally changing matter of life itself. Inspired equally by expressionist painting and baroque music, Brakhage's painted films comprise a lush, thoroughly unique genre all their own.
Night Music dir. Stan Brakhage | USA 1986 | 30 sec. 16mm
First Hymn to the Night — Novalis dir. Stan Brakhage | USA 1994 | 3 min. 16mm
The Horseman, the Woman, and the Moth dir. Stan Brakhage | USA 1968 | 18.5 min. 16mm
Garden Path dirs. Stan Brakhage & Mary Beth Reed | USA 2001 | 7 min. 16mm
Autumnal dir. Stan Brakhage | USA 1993 | 4 min. 16mm
Naughts dir. Stan Brakhage | USA 1994 | 5 min. 16mm
The Dark Tower dir. Stan Brakhage | USA 1999 | 2.5 min. 16mm
Stately Mansions Did Decree dir. Stan Brakhage | USA 1999 | 5.5 min. 16mm
Persian Series 1–5 dir. Stan Brakhage | USA 1999 | 16 min. 16mm
Interpolations 1–5 dir. Stan Brakhage | USA 1992 | 12 min. 35mm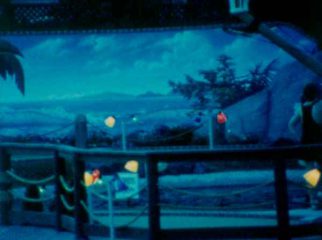 A Child's Garden and the Serious Sea, Wednesday, November 14 9:00pm
dir. Stan Brakhage | USA 1991 | 71 min. 16mm
In the early '90s Brakhage discovered the natural wonders of Vancouver Island, the home of his second wife Marilyn Jull, and the films he made during this period (collectively known as the Vancouver Island Quartet) find him returning to the focus on nature and childhood evident in his early Colorado films. As Marilyn, unlike his first wife Jane Collom, forbade him from filming their children, in A Child's Garden and the Serious Sea — the central work of the Quartet — Brakhage instead explores the boundaries of Marilyn's own childhood world: the backyard of the house she grew up in, the surrounding environs, and the sea that so defines the character of the island. R. Bruce Elder describes A Child's Garden as "an affirmation of love as a quest for a deeper understanding of a loved one," and through Brakhage's exquisitely detailed camerawork we see how passionately he pursued that quest.
Preceded by
The Garden of Earthly Delights dir. Stan Brakhage | USA 1981 | 2 min. 35mm
A stunning, mid-career return to the process that Brakhage first employed in Mothlight, wherein he adheres flowers, leaves, and grass to the celluloid strip itself.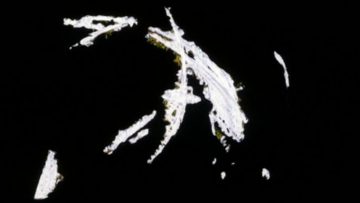 Panels for the Walls of Heaven: The Final Films, Wednesday, December 12 9:05pm
In 1996, Brakhage was diagnosed with bladder cancer — an illness that, tragically, may have been caused by the coal tar dyes found in the paints he made his films with. He continued to work prolifically for the next seven years, a period that also saw him relocate from Colorado to Canada prior to his death in March 2003. Before moving, he completed his last painted film Panels for the Walls of Heaven (shown here in a recent restoration) and Max, a portrait of his cat. In his final months, he worked on two films from the confines of his bedroom in Victoria, B.C.: Stan's Window and The Chinese Series, the latter comprised of ideograms that Brakhage etched into the film emulsion with his fingernails and which was printed after his death. These works provide a masterful and moving finale to a 50-year filmmaking career that defied all standards and conventions.
Chinese Series dir. Stan Brakhage | USA 2003 | 2 min. 35mm
Commingled Containers dir. Stan Brakhage | USA 1996 | 3 min. 16mm
Seasons… dirs. Stan Brakhage & Phil Solomon | USA 2002 | 15 min. 16mm
Max dir. Stan Brakhage | USA 2002 | 3 min. 16mm
Panels for the Walls of Heaven dir. Stan Brakhage | USA 2002 | 35 min. 16mm
Stan's Window dir. Stan Brakhage | USA 2002 | 5 min. 16mm
Lovesong 3 & 4 dir. Stan Brakhage | USA 2001 | 12 min. 16mm