"Contralto, by Sarah Hennies." October 24, 2018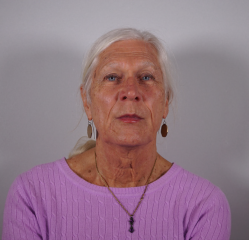 Contralto
dir. Sarah Hennies | USA 2017 | 50 min. Video
Sarah Hennies' Contralto has generated a wave of critical praise since its debut at the Brooklyn's Issue Project Room last year. An experimental documentary designed to be performed with live musical accompaniment, Contralto — which takes its title from the term for the lowest female singing voice — is based on a common practice among transgender women, whereby they learn to change their voices in order to be perceived as "female." Unlike transgender men, whose voices deepen due to the testosterone prescribed during hormonal therapy, the voices of transgender women remain unchanged by estrogen therapy, and require conscious practice to achieve a higher pitch.
In Contralto, onscreen interviews with and vocal exercises performed by seven transgender women are accompanied by a live score that emphasizes timbre, pitch and tone — qualities of sound that, when found in voices, often signify culturally determined gender cues. Conceived in part as a "protest piece" that challenges the audience to "change their definition of what they think a woman sounds like," Contralto is a visceral and beautiful exploration of identity through sound.
Contralto is brought to Toronto in conjunction with the Thin Edge New Music Collective, who will be performing the piece along with a brand new composition commissioned especially for the collective. The performers for the evening include Ilana Waniuk (violin), Nelson Moneo (viola), Amahl Arulanandam (cello), Adam Scime (double bass), Cheryl Duvall (keyboard/percussion), Nathan Petitpas (percussion) and Germaine Liu (percussion).
Co-presented by the Thin Edge New Music Collective and Riparian Acoustics.
Sarah Hennies in person.