"Film Farm: 25 Years of the Mount Forest Independent Imaging Retreat." July 10 & 11, 2019
Conceived in 1994, Phil Hoffman's weeklong Independent Imaging Retreat — known colloquially as the Film Farm due to its situating on Hoffman's property outside Mount Forest, Ontario — has been an important catalyst for a resurgence of artisanal filmmaking worldwide. Looking to circumvent the fading industry of photochemical labs, every year Hoffman and his volunteer team of fellow filmmakers guide the attending artists through the delicacies of hand-processing analogue film, conveying an appreciation for craft, method, and chance that, in some cases, has provided the impetus for a radical change in the artists' practice. Having now produced almost 300 "graduates" (of whom almost two-thirds are women) and over 100 completed works (with many more still "in development"), the Film Farm has helped sustain a spirit of discovery and risk in contemporary experimental filmmaking, particularly in Canada (which has furnished over two-thirds of the Farm's attendees).
The films in the first programme of this two-night series tend to focus on aspects of personal revelation and the formation of the self, while those in the second programme move outwards to consider larger histories of imagery and form (archival films scavenged from the Farm's collection serve as source material for many of these works). Viewed together, these disparate works offer a strong representation of the roughhewn personal poetics and adventures in process that continue to be nurtured and developed at the Film Farm.
The second programme was introduced by Kim Knowles. Phil Hoffman, John Porter, Cecilia Araneda, Christina Zeidler, Jonathan Culp, Rob Butterworth, Terra Jean Long, Scott Miller Berry, Kim Sandlos, Angela Joose, James Gillespie, and Penny McCann in person.
Programme 1: We Are Going Home
Kiss dir. Lyndsay Bloom | USA 2012 | 2 min. 16mm
Across dir. Cara Morton | Canada 1997 | 4 min. 16mm
Dandelions dir. Dawn Wilkinson | Canada 1997 | 6 min. 16mm
Swell dir. Carolynne Hew | Canada 1998 | 5 min. 16mm
Scratch dir. Deirdre Logue | Canada 1998 | 6 min. 16mm
Phil's Film Farm dir. John Porter | Canada 2003 | 11 min. 16mm
Your New Pig is Down the Road dir. Helen Hill | Canada 1999 | 5 min. 16mm
What Comes Between dir. Cecilia Araneda | Canada 2009 | 6 min. 16mm
Traces dir. Christina Zeidler | Canada 2002 | 11 min. 16mm
Chants des Mouches dir. John Greyson | Canada 2010 | 5 min. Digital
I Regret dir. Jonathan Culp | Canada 2018 | 8 min. 16mm
Goodbye dir. Daniel McIntyre | Canada 2011 | 4 min. Digital
kaleidoscope dir. Jaene F. Castrillon | Canada 2016 | 3 min. Digital
We Are Going Home dir. Jennifer Reeves | USA 1998 | 10 min. 16mm
Programme 2: Crashing Skies
minus dir. Christopher Chong | Canada 1999 | 3 min. 16mm
Tell Me What You Saw dir. Srinivas Krishna | Canada 1994 | 7 min. 16mm
The Shape of the Gaze dir. Maia Carpenter | USA 2000 | 3 min. 16mm
Hardwood Process dir. David Gatten | USA 1997 | 14 min. 16mm
Film-Landscape-People: An Exquisite Corpse dirs. Marcia Connolly & Angela Joose | Canada 2008 | 3 min. 16mm
About Flight: The Surly Bonds of Earth dir. James Gillespie | Canada 2001 | 8 min. 16mm
Forsaken dir. Heidi Phillips | Canada 2012 | 5 min. 16mm
I Came for the Wedding dir. Pouyan Jafarizadeh Dezfoulian | Canada 2009 | 8 min. 16mm
Knowledge of Good and Evil dir. Amanda Dawn Christie | Canada 2005 | 2 min. 16mm
Anamnesis dir. Scott Miller Berry | Canada 2009 | 3 min. 16mm
Cicatrix dir. Jeremy Moss | USA 2014 | 7 min. Digital
Manifest Destiny dir. Sami van Ingen | Finland 2016 | 5 min. Digital
Crashing Skies dir. Penny McCann | Canada 2012 | 6 min. Digital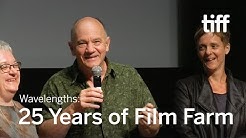 Kim Knowles' talk and Program 2 Q&A available to watch here.