"A Very Personal Story: The Video Art of Lisa Steele." October 29, 30 and November 2, 2019
Emigrating from Kansas City, Missouri to Canada with a group of draft resisters in 1968, Lisa Steele soon became a key figure in the Canadian art scene. An early adherent of video art, which she subsequently supported as a co-founder of the non-profit distributor Vtape and as a teacher at both the Ontario College of Art and Design and the University of Toronto's Visual Studies Program (from which she just retired this year), Steele has had a profound influence on the development of the field. Her 1974 video Birthday Suit — with scars and defects is still taught in every art school across the country, its forthright self-representation of the female body maintaining its potency and relevance through four decades of tumultuous culture wars. This video is emblematic of her entire videography in its underlying conception of art as resistance, its insistence that the personal and the political are one and the same.
Steele first started to create video art in the mid-'70s, commandeering the Sony video equipment in Toronto's A Space Gallery to create a series of soliloquies in which she would perform long-form monologues for the camera in a single take. Video at that time was a clunky format, with large cameras recording onto half-inch reel-to-reel tape that had to be physically spliced to be edited. Despite these drawbacks, the fact that video recorded sound concurrently, could be shot with a crew of one, and had an image that could be immediately accessed via playback drew artists like Steele to embrace it, first as an affordable alternative to film, and later as a unique medium in its own right.
Lacking in both technical sophistication and aesthetic appeal, video technology inspired an art form that put primacy on the performance in front of the camera, which, in Steele's earliest works (as in those of fellow artists like Colin Campbell and Martha Rosler), manifested itself in intimate and intense self-portraiture. Steele's artmaking was also greatly influenced by her work at Interval House, a women's shelter she began assisting at in 1974, and her videos from this period display her empathetic ability to give voice to the experiences of the women she worked with there. Steele further developed her videos by incorporating more advanced production tools and referencing the aesthetics and structure of pop-cultural formats like daytime soaps and TV procedurals, but with their readymade drama honed and refined by a rigorous visual simplicity that concentrates focus on language and gesture.
Since 1983, Steele has worked in collaboration with her partner and fellow Vtape co-founder Kim Tomczak on both installations (the duo's …before I wake is featured at this year's Toronto Biennial of Art) and long-form video works. The Blood Records: written and annotated is the pinnacle of the pair's approach: an intricate mixing of documentary, dramatization, history, and contemporary resonance highlighting their research on the tuberculosis sanitoria of mid-century Canada. Steele and Tomczak's most recent video, The Afternoon Knows What the Morning Never Suspected — their first piece to explicitly address the Vietnam War, the event that was so crucial to Steele's early political development — looks at Canadian complicity in Vietnam, and makes connections between war refugees that have made Canada their home, both then and now.
Lisa Steele in person.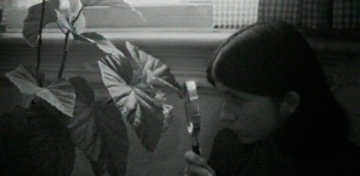 Programme 1: Soliloquies
Comprising roughly a dozen works made between 1974 and 1977, Steele's early videos centre on the artist's occasionally scripted but mostly extemporaneous monologues, which are delivered in a single take and with intimate force — an intimacy that is amplified by Steele performing nude, exposing herself both literally and metaphorically. In A Very Personal Story, Steele recounts the moving story of the death of her mother; Birthday Suit — with scars and defects, a foundational work of feminist art, finds Steele cataloguing the visible traces of her then 27-year-old body's physical history, a corporeal record of its being in the world. In The Ballad of Dan Peoples, Steele channels the voice and cadence of her recently deceased grandfather in an attempt to create a record of his storytelling mannerisms. Facing South uses her diary of the spring growing cycle to "show a female experience which was analytic in its relation to nature," countering the masculine habit of mystifying women's experience by twinning it with the natural world.
A Very Personal Story dir. Lisa Steele | Canada 1974 | 20 min.
Birthday Suit — with scars and defects dir. Lisa Steele | Canada 1974 | 14 min.
The Ballad of Dan Peoples dir. Lisa Steele | Canada 1976 | 4 min.
Facing South dir. Lisa Steele | Canada 1975 | 22 min.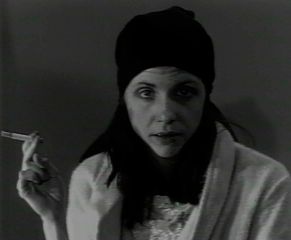 Programme 2: Some Call It Bad Luck
From 1974 to 1988, Steele worked at Interval House, a shelter for women and children leaving situations of domestic abuse, and her experiences there ultimately became an inspiration for her artmaking, as she created a series of videos that fictionalized the stories of the women she met and worked with. Apart from Talking Tongues, the only video of this period to adhere to Steele's previously established monologic style, these works address stories of domestic abuse through a more conceptual approach: a distanced, analytical emulation of TV soap operas and cop shows. Makin' Strange follows the story of a woman struggling with the bureaucracy of the Children's Aid Society, as she also tries to balance the needs of her child with the interference of a deadbeat husband. Shot by Zacharias Kunuk's longtime collaborator Norman Cohn, Some Call It Bad Luck is Steele's most cinematic video, capturing the gaslighting of a woman by police investigators who hammer her in intense interrogations until she agrees that she might have killed the intruder who invaded her workplace.
Talking Tongues dir. Lisa Steele | Canada 1982 | 10 min.
Makin' Strange dir. Lisa Steele | Canada 1978 | 17 min.
Some Call It Bad Luck dir. Lisa Steele | Canada 1982 | 48 min.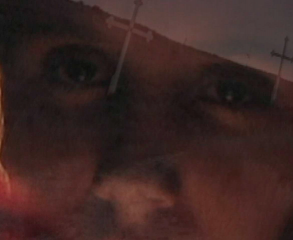 Programme 3: Collaborations
Dot Tuer has written that Steele and Kim Tomczak's many collaborations since they became an artistic duo in 1983 represent "the reinvention of utopian imagination … the potential for mediated reality to reflect the dynamics of social change." The Blood Records: written and annotated, which draws on the stories of both artists' mothers to dramatize life in a tuberculosis sanatorium in the Prairies in the 1940s, is exemplary of the pair's approach, combining dramatization, found footage, and monologues into a poetic evocation of a time long past that still resonates with our present(s): the AIDS crisis at the time of the video's release, the subsequent public-health crises of SARS and the Walkerton E. coli outbreak, and, now, the renewed threat to public health as a result of provincial government cutbacks. Steele and Tomczak's most recent video, The Afternoon Knows What the Morning Never Suspected, reflects on Steele's own history as a war resister who found refuge in Canada through a reading session in which two young women, both war refugees, share passages about the history of the Vietnam War and Canada's role in the conflict as a war profiteer.
The Afternoon Knows What the Morning Never Suspected dirs. Lisa Steele & Kim Tomczak | Canada 2017 | 21 min.
The Blood Records: written and annotated dirs. Lisa Steele & Kim Tomczak | Canada 1997 | 50 min