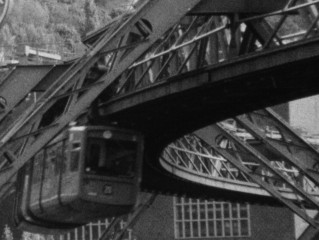 Phantoms
14 minutes, 35mm, black & white, sound, 2012
"A study of the incongruous and iconic suspended monorail in Wuppertal Germany. Shot on super 8 and finished on 35mm film, Phantoms expertly employs the exaggerated grainy texture of the emulsion to suggest a netherworld out of time, both science fiction and ancient history, while an accompanying text muses on the vanity and folly suggested by the mysterious structure." – Kate MacKay, Images Festival
Text by Ryan Kamstra. Financial assistance provided by the Ontario Arts Council.
Distribution:
Canadian Filmmakers Distribution Centre
Light Cone
Selected Screenings:
Antimatter Film Festival, Victoria, BC, October 14–22, 2011
"Ostranenie: Reconsidering the Known", curated by Jennifer Rarick, Aggregate Space, Oakland, California, December 16, 2011-January 21, 2012
Hong Kong International Film Festival, March 21-April 5, 2012
Parkdale Film + Video Showcase, Toronto, June 21-24, 2012
Light Cone Preview Show, Paris, September 13, 2012
Director's Citation, 32nd Annual Black Maria Film + Video Festival, February, 2013
CFMDC Market Screening, Oberhausen Short Film Festival, Germany, May 1-6, 2014
Les Rencontres Cinéma et Vidéo à Nice, November 25, 2022


The Ontario Arts Council is an agency of the Government of Ontario.