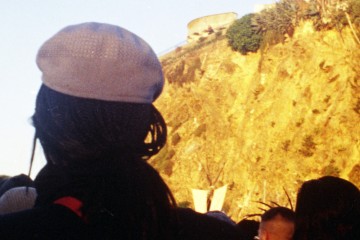 lay claim to an island
13 minutes, 16mm on video, color, sound, 2009
Texts from the 1969 American Indian Occupation of Alcatraz and letters from supporters propel an exploration of political yearning, emancipatory architecture and failed utopias. What does it mean to claim land that has more value as a symbol than as a potential home? And how does that symbol function beyond the boundaries of its geographic limits?
Also available with Spanish of French subtitles.
Preview (Full):
Light Cone
Distribution:
CFMDC
Light Cone
V tape
Prizes:
Second Prize, Milwaukee Underground Film Festival, 2010
Selected Screenings:
37th Ann Arbor Film Festival, March 24-29, 2009
2009 Sydney Underground Film Festival, September 10-13, 2009, Australia
WNDX Festival, Winnipeg MB, October 8 to 11, 2009
12th Antimatter Film Festival, October 9 to 17, 2009 Victoria, BC
Jihlava International Documentary Film Festival, October 27-Nov 1, 2009 Czech Republic
19th Madrid Experimental Cinema Week, November 20-27, 2009
Other Cinema, November 21, 2009
Experiments in Cinema V5.1, Albuquerque, New Mexico, April 10-15, 2010
European Media Arts Festival, Osnabruck, Germany April 21-25, 2010
Athens International Film and Video Festival, Athens, OH, April 23 – 29, 2010
Milwaukee Underground Film Festival, April 30-May 2, 2010
Chicago Underground Film Festival, June 24-July 1 , 2010
3rd Experimental Cinema Exposition "Rompan Límites", Uruguay October 1-3, 2010
Le Festival du nouveau cinema, Montreal, October 13-24, 2010
Cine-X, Olympia Film Festival, November 12-20, 2010
Rencontres Internationales Paris/Berlin/Madrid, at the Centre Pompidou, November 26-December 4, 2010; at the Reina Sofia, May 23-29, 2011; and at the Haus Der Kulturen Der Welt, June 28 to July 3, 2011
6th Bangkok Experimental Film Festival, January 28-February 5, 2012
Strange Beauty Film Festival, Durham, NC, February 16-18, 2012
Big Muddy Film Festival, Carbondale, IL, February 21-26, 2012
Bangkok Experimental Film Festival 6 Domestic Touring Programme
BEFF6 Tour, Walailak University, Nakhon Si Thammarat , South Thailand, September 21-22, 2012
BEFF6 Tour, MahaSarakham University, MahaSarakham, Northeastern Thailand, December 25, 2012
BEFF6 Tour, Future Perfect Gallery, Singapore, July 12-14 2013
Arkipel International Documentary and Experimental Film Festival, Jakarta, Indonesia, August 24-30, 2013
Havana Film Festival, Cuba, December 8-17, 2016
"Alcatraz revisited", curated by Martin Grennberger, Nomadica – Weekend On the Moon, Bologna, Italy, November 2, 2019
"Beyond Recognition: Indigenous Activism", curated by Margherita Ghetti, Sarah Whitt and Hertha D. Sweet Wong Pacific Film Archive, Berkeley, November 14, 2019
In the collections of the Echo Park Film Center, Los Angeles and the Pacific Film Archive, Berkeley.