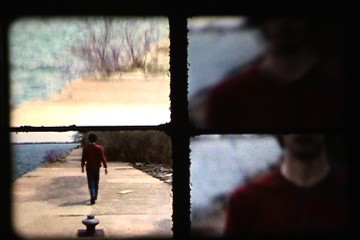 4 x 8 x 3
3 minutes, 16mm, color, sound, 2004
8mm unsplit. Streetcars circle. The ferry leaves and returns in one gesture. Camera and character dance. Supported by 2003 Filmmakers Support Program LIFT.
Preview:
Light Cone
Distribution:
Canadian Filmmakers Distribution Centre
Light Cone
DVD purchase:
Compiled on Super Super 8: Experimental Works for Educational Environment DVD, 2005 (available through CFMDC).
Selected Screenings:
the $99 Film Festival, LIFT, June 17, 2003
Recent Work Roundup, "The Independents", Cinematheque Ontario, January 15, 2004
The Best of the $99 No-Excuses Film Festival, Ed Video Guelph, February 20, 2004
The 6th Annual Zeitgeist International Film Festival, San Francisco, June 14, 2004
The 7th Annual Antimatter Festival of Underground & Short Film, Victoria BC, September 24, 2004
Calgary $100 Film Festival, Calgary, Alberta, March 10-12, 2005
Avanto Festival 2005, Helsinki, Finland, November 18-20, 2005
CineCity Festival 2005, Brighton, UK, November 17-December 4, 2005
VIPER International Competition 2005, Basel, Switzerland, March 16-20, 2006
"Süper 8: Pequeño Gran Formato" Xcèntric, Centre de Cultura Contemporània de Barcelona, January 8-11, 2009
"Urbanity", Calgary Society of Independent Filmmakers, September 11, 2009
"Strategies of the Medium 5: Pieces of Eight", LIFT, Toronto, April 30, 2010
Festival de Cine de Lima, August 18-16, 2014
"8 Super 8. De Lo Doméstico a lo Infinito", Cineteca Madrid, April 26, 2019
"21st Dresdner Schmalfilmtage", Dresden Germany, October 15-18, 2020