Experimental Media Congress, Toronto
April 7-11, 2010
Conference Coordinator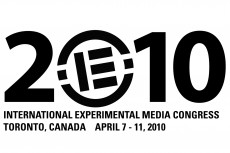 The first Congress since the storied 1989 Toronto Experimental Film Congress, this gathering promoted ongoing international conversations and provided platforms for creative discussions about the burning issues related to experimental media production, exhibition, dissemination, criticism, pedagogy and reception.
Download schedule here.
Presenters included Ayisha Abraham, Steve Anker, Konrad Becker, Ursula Biemann, Wafaa Bilal, Pip Chodorov, Alfredo Cramerotti, Barry Doupé, Christopher Eamon, Kevin Jerome Everson, Vera Frenkel, Jean Gagnon, Peggy Gale, Benj Gerdes, Nicole Gingras, John Greyson, Tamar Guimarães, Barbara Hammer, Ed Halter, Nicky Hamlyn, Birgit Hein, Shai Heredia, Kathy High, Cheryl L' Hirondelle, James Holcombe, Henriette Huldisch, Simone Jones, Jorge La Ferla, Hangjun Lee, Ross Lipman, Steven Loft, Ming-Yuen S. Ma, Ou Ning, Wendelien van Oldenborgh, Juan Ortiz-apuy, Susan Oxtoby, Donghyun Park, Andréa Picard, Yvonne Rainer, Dont Rhine, Peter Ride, David Rokeby, Daïchi Saïto, Paige Sarlin, Tom Sherman, Pelle Snickars , Michael Snow, Hito Steyerl, Stefanie Schulte Strathaus, David Teh, Bart Testa, Kaitlin Till-Landry, Dot Tuer, Ainsley Walton and Sobhi al-Zobaidi.